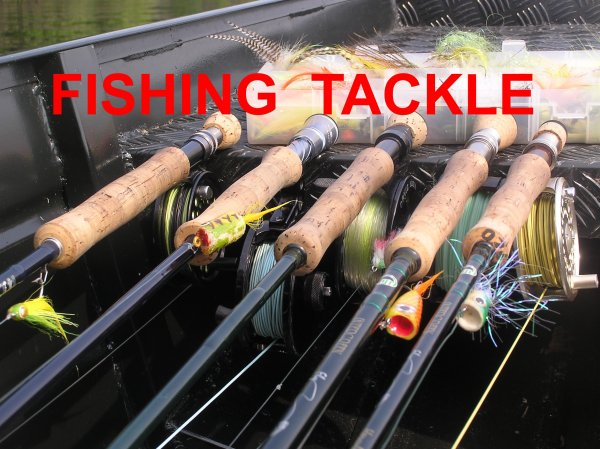 For obvious reasons, we have to fish tough in Amazonia. The tackle has to be robust and adapted to powerful, rapid, and often large adversaries which will try to take refuge in the vegetation and sunken obstacles once striked. So the more suitable outfit ( rod, reel, fly-line) to those waters is indoubtedly the saltwater tackle used for tarpon, snook and permit. Thus equiped, you will be able to confront etherything that moves with fins in Amazonia.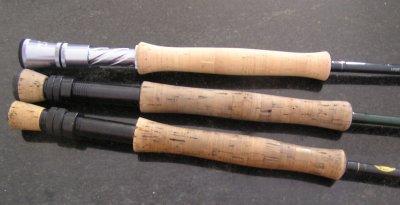 rods for Amazonia
Rods:
Tip and fast action with a powerful backbone, to propel rapidly bulky flies and large poppers with a few false casts on posts, and sudden activities of fish to the surface, and also to apply substantial pressure to stop these terrific fighters from running into the structures and other underwater obstructions. So, 8 to 10 weight rods are the more suitable for Amazonia and its formidable game-fishes. Major american firms currently produce the best rods in the world, but now, some houses of Asia and Europe, begin to offer on the market excellent models at very attractive prices.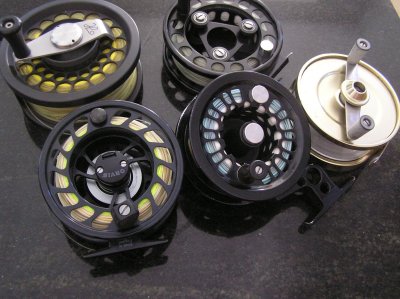 reels for Amazonia
Reels:
Salt water type, for baby-tarpon and snook, with a good and smooth disc brake, and an important reserve of backing, to control the powerful rushes of our adversaries toward the obstacles. The americans propose again fantastic reels perfectly designed and conceived by authentic flyfishermen. But, once again, Asia and Europe begin to compete with the United States.
Fly-lines:
Once again, it will be necessary to refer to the outfit used in the sea. Therefore, the line will be saltwater or bass bug taper profiled , designed to cast easely voluminous poppers and flies that sometimes confined to gigantism. Many firms offer on the market specialty "tropicalized" lines that will not become noodles under the effects of the hot climate. Those lines are a good choice.
Depending of lures and water level, we'll use several types of lines:
- floating for normal waters, streamer and poppers fishing
- floating with intermediate tip for normal waters and streamer fishing ( a good all rounder line)
- intermediate for normal and a little high water and streamer fishing
- sinking(S1, S2), for the early season and streamer fishing
- floating with high density sinking tip (300, 400 grains) by high water, in the biggining of the season or on the contrary, by very low and warm water, when the fish takes refuge in depht, looking for colder water.
But it exists a compromise quite acceptable, which avoid to stuff your pockets with a lot of spare spools.These are the lines known as " multi tip" or " versi tip", wich are compound of a floating belly with several interchangeables tips of different densities: a floating , an intermediate , a sinking ( S1 or S2), and a high density tips. The only thing we could reproach to these lines, is to be less enjoyable to cast than conventional lines.
leaders
If you are attracted by the prospect to break IGFA records, you must conform to the sacrosanct rules of this institution, and to refer to certain standards. But if you really want to have fun, and release your fishes in good shape and health, knowing that its chances of survival are inversely proportional to the duration of the fight, don't hesitate to use a solid monofilament( hard nylon or fluorocarbon), of 35 or 40 Lbs, that sometimes is not sufficient...
And in conclusion of this chapter, if you pursuit toothy species like payaras or piranhas, don't forget to end you leader with a wire shock-tippet.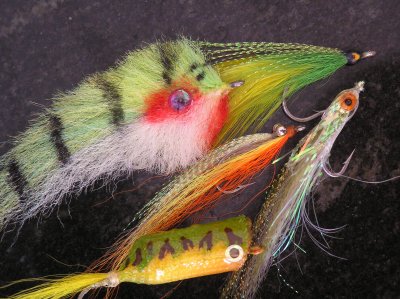 flies for Amazonia
Flies:
Amazonian fish is not yet very solicited with flies. That does'nt mean that it is stupid and pulls with ferocity on anything that moves. And as each fish in the world, it educates quickly, and reacts exactly to the same stimuli that the game fishes of temperate countries
The fly tying is an art, and it would be a pity to leave the pleasure to dress beautiful flies, but the attractive power of a simple pattern is often higher than the one of any sophisticated creation of your imagination. However enjoy: Amazonia is a huge field of investigations for your imitations. While some models of flies very simples operate very well in these waters, others more elaborated imitations like the famous productions of Enrico Puglisi( www.epflies.com), to compliment this great fly dresser, have an incredible effectiveness.